Roof - Wall - Liner & Soffit - Exposed Fastening

The Panel Profiles shown are some of the most commonly used in the industry. Most of the Panels are 36" wide and are ideal for the following applications; Roof, Wall, Soffit, Liner, Partitions, of which, many are used equally well in all applications. You may choose from Exposed Fastener or a Semi-Concealed Fastener Profile. Expose fastening occurs in the flat of the Panel between the major ribs, whereas Semi-Concealed fastening occurs in the valley of the corrugation. Semi-Concealed fastened Panels are not recommended for use as a Roof Panel. As with all Panels, the final product end-use, will help determine the exact Panel Profile, Gauge and Paint finish required.
Click on a panel to view a larger image.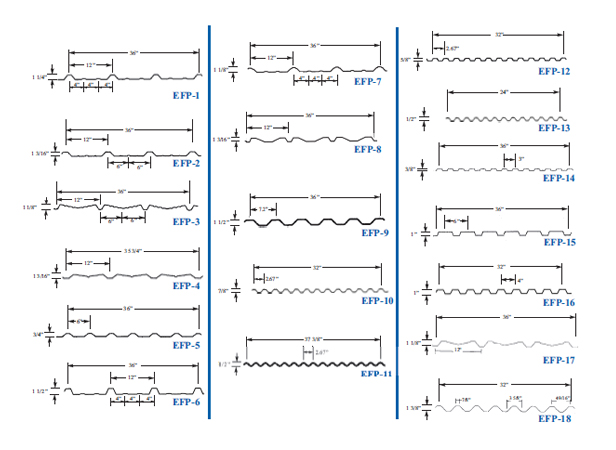 Panel Notes:
Please inquire for Embossing, Special Gauge availiblity, Perforating, Coverage Width, Special Colors or Finishes.
Some profiles may require minimum quantities and longer lead-times.
Embossing will help to minimize oil canning. Oil canning is not a cause for panel rejection.
Certain Panel Profiles have the option to locate the Finished Color on the opposite side of the material, to give it a different Profile & Appearence.
Panels EFP-3,4,8 & EFP-17 may experience module, non-uniform side-laps and oil canning of more than 3" thick of wall insulation is used.
Panels EFP-3,4,13 & EFP-14 are not recommended for Roof applications.
Some Panels require a minimum Roof Slope. Please inquire.
Panels EFP-7 & EFP-8 are discontinued - may be available in certain Colors & Gauges. Minimum Quantities and longer Lead-Times may apply.
Some Panels may be used in either a Horizonal or Vertical applications. Please inquire.
If you don't see the Commercial Steel Roof Panels or Commercial Metal Wall Panels you are searching for, contact our offices. We are experts at finding the right panel for your commercial and industrial requirements