Corrugated and Insulated Metal Wall Panels

Whether you need corrugated metal panels or insulated metal panels for exterior walls, interior partition walls, roof systems, or cold storage facilities, CCB has the right product for any of your commercial, institutional, industrial, or low temperature needs.
Our metal building insulation components are made with vapor barriers that enhance thermal performance and prevent metal conductance from the exterior to the interior. A Kynar exterior finish is also standard. For cold storage applications, the standard exterior and interior finish is a USDA approved white high performance coating that can be used in process areas that require a heavy wash down.
Both our corrugated and insulated materials are designed with a panel-to-panel lap interlocking tongue and groove system equipped with concealed clips and fasteners. A one-step pass around the building is all it takes to provide a complete insulated exterior and interior finish. Unlike multi-pass field installed systems, our building materials will cost less and achieve the final results you are looking for. If you are in the market for corrugated sheet metal and insulated wall panels give us a call today! We'll be happy to help you find the specific type of building materials you're looking for.
Click on a panel to view a larger image.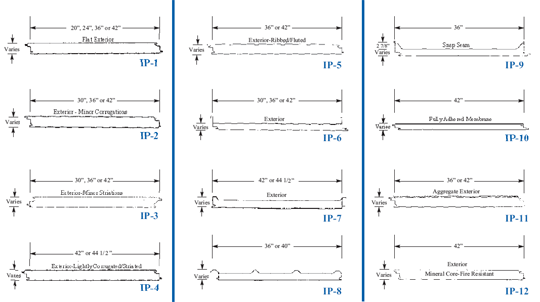 Insulated Metal Wall Panel Notes:
Panels are connected to structural members with concealed clips and fasteners.
For panel thickness and "R" values, please inquire.
Some panels are not recommended for "cold storage" applications. Please inquire.
Some panels can be installed either vertically or horizontally. Please inquire.
Panel IP-2 has the same configuration on the interior as the exterior.
Panels IP-2, IP-3 and IP-5 can have an optional texture coating applied to give an extra architectural enhancement.
Panel IP-5 is recommended for "cold storage" applications.
Panels IP-6, IP-7, IP-9 and IP-10 are only used in roof applications.
Panel IP-6 requires a field seaming kit to field form panel side-laps. A rental fee is required.
Panel IP-7 requires a screw-down batten cap over the rib.
Panels IP-8 and IP-9 can be used in either a roof or wall application. Please inquire.
Panel IP-10 has a fully factory adhered rubber membrane applied over the metal exterior panel.
Panel IP-11 has an aggregate reinforced coating on the exterior side which is impact and abrasive resistant.
Panel IP-12 is a 1 HR / 2 HR fire resistant mineral core composite panel.