Agricultural Panels

Agricultural Panels are usually Low Profile, Exposed Fastener, 36" Coverage, Ribs at 9" O.C. and 3/4" deep. Panel attachment can be made over Open Framing (Local Code will determine the Framing Spacing), or a Solid Wood Substrate. There are a variety of Panel Applications, such as, Roof, Walls, Liner, Soffit, Residential Roofing and more. These Panels offer pleasing Profiles and are economically affordable to meet any budgetary requirements. A variety of Material Substrates (G-60, G-90 or Bare Galvalume) are available.
Click on a panel to view a larger image.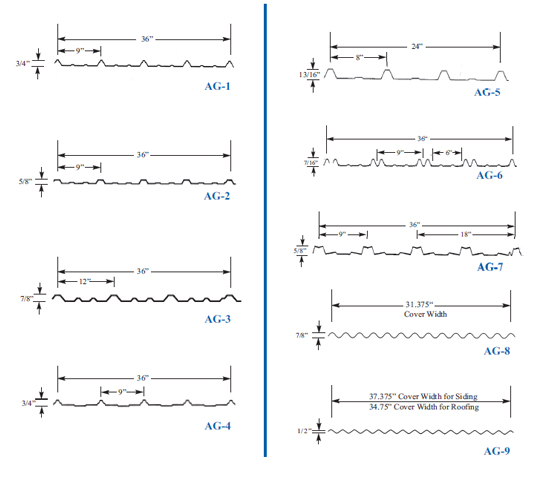 Panel Notes:
Please inquire for other Panel Profiles/Width's, Special Applications, Embossing, Special Gauge availability, Perforating, Special Colors or Finishes.
Some Profiles may require minimum quantities and longer lead-times.
Certain Profiles may have a minimum roof pitch requirement. Please inquire.
Panels AG-2 & AG-6 have a unique hidden siphon channel which inter-locks at each panel to provide a water-tight seal and allow moisture to drain.