Metal Wall - Liner & Soffit Panels- Concealed Fastening

The Panel Profiles shown are used mainly in Architectural applications in which exposed fastener heads are not desired. Most of these Panels are used in the following applications: Exterior Wall, Interior Partition, Soffit or other inside usages. Some may also offer an option of a manufactured installed bead of mastic applied to provide a weather tight seal. Please consult our sales office for the proper panel profile to be used on your application.
Click on a panel to view a larger image.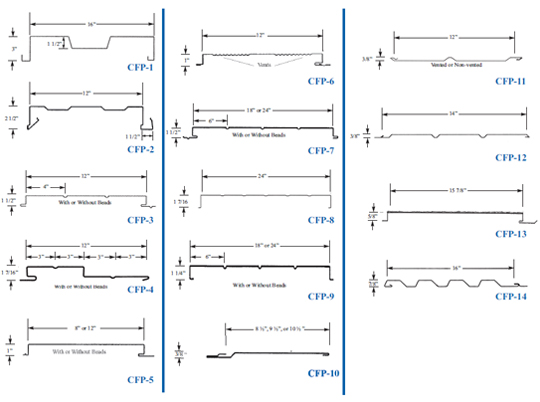 Panel Notes:
These Panels SHOULD NOT be used as Roof Panels.
Please inquire for Embossing, Special Gauge availability, Perforating, Coverage Width's, Special Colors or Finishes.
Some Profiles may require minimum quantities and longer lead times.
Embossing will help to minimize oil canning. Oil Canning is not a cause for panel rejection.
Panels CFP-3 & CFP-4 have factory installed mastic.
Panels CFP-5 thru CTP-11 are not recommended for Exterior Wall applications.
Stiffening Beads are optional on some profiles; they will help to reduce oil canning.
Panel CFP-13 has a Texture Coating to give it that "EFIS" appearance and comes in a diverse color selection. This is mainly used in Exterior Wall applications.
Panel CFP-14 is used mainly in Horizontal applications